Employee Performance Evaluation – SEO LP
Turn old school employee performance evaluations into an exciting and effective process
Every employee is interested in personal development but old school performance reviews are no longer effective. eloomi gives you precise, data-based performance evaluation with an open conversation and no unnecessary paperwork.
Employee performance evaluation as a process
An employee performance evaluation is much more than just a yearly survey. It is a continuous mutual process that is only effective when an employee has a clear understanding of the goals. With eloomi managers can help achieve the goals by providing relevant training and feedback.
Make better decisions based on relevant data
One of the biggest problems with an annual employee performance evaluation is the lack of data. In order to give fair and productive feedback to someone you need ongoing performance tracking. eloomi equips you with reporting tools, allowing you to evaluate performance on a personal, departmental or organisational level.
Increase productivity with Goals that matter
eloomi gives you the freedom to create multiple goals as well as specify their contribution to the overall performance. Choose between different feedback types. Online feedback sessions with managers can help employees reach their goals by pointing out areas of improvement.
Keep track of talent and critical knowledge
Use the employee performance evaluations in eloomi to easily view all employees progress. This helps you see who is succeeding and who could use extra help, all at a quick glance. Choose the areas that you want to see employees succeed in and watch their progress!
Have employees who are falling behind? No worries, eloomi's got you covered! If you have eloomi's learning solution, you can add the necessary learning to your employee performance evaluations. Combining learning and performance is not only what makes eloomi unique, but is also what helps your employees performance succeed.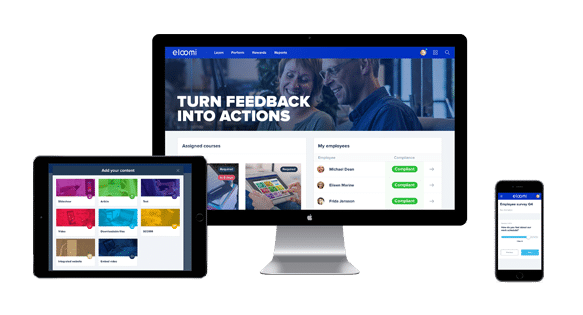 Experience eloomi with a free demo