CSR
Corporate Social Responsibility
We go beyond our business
Our CSR Policy Statement is not simply about maximizing profitability. It is much broader than that, and it certainly includes being a responsible business. At eloomi we care deeply about the environment, support human rights, and give back with the Red Cross.
CSR at eloomi sets how we act responsibly on both a corporate and an individual level. It also sets out our CSR policy in relation to the key responsibility areas that we have identified.
At eloomi, we are committed to principled business practices and our respect for people and the planet.
100%
Aligned to UN Global Compact
100%
Carbon Neutral Hosting
28% Staff Initiative Contribution
100%
Red Cross initiative support
We recognise the growing linkages among various environmental issues – climate, food, water – as well as their connections to social and development priorities.
We will in everything we do push ourselves to move beyond traditional approaches and actively address environmental risks and opportunities. As a result, we will see ourselves and eloomi preparing for a more sustainable future and becoming part of the global solution. In 2021, we reduced our CO2 emissions by 13% & are emit 30% less than the average office-related companies worldwide.
We have a strong focus on:
Leveraging new technologies to manage energy
Saving carbon by reducing travel
Using digital to mitigate environmental impact
Personal Carbon Reduction Initiative
We have begun a Carbon Initiative that started 1 June 2019 and lasts a year. This initiative is a goal set by our employees to not only help reduce the company's carbon footprint but also reduce their own personal footprint by 1.8 tons a year or 12.5%. Making smarter choices about the food we eat & where it comes from will help us achieve that goal. eloomi employees have promised to not waste food, eat local and reduce the amount of meat they consume. All these smarter, cleaner choices will not only make eloominizers a little bit better but the world better as well.
Aligned to UN Global Compact
The world's largest corporate sustainability initiative, eloomi supports the UN Global Compact program and aligns to the UN Global Compact 10 principles.
Our business supports and respects the protection of internationally proclaimed human rights
We make sure that we are not complicit in human rights abuses
Our business shall uphold the freedom of association
We support the elimination of all forms of forced and compulsory labour
We support the effective abolition of child labour
We support the elimination of discrimination in respect of employment and occupation
Our business supports a precautionary approach to environmental challenges
We undertake initiatives to promote greater environmental responsibility
We encourage the development and diffusion of environmentally friendly technologies
We work against corruption in all its forms, including extortion and bribery
We're proud of our support and collaboration with the Red Cross. As individuals and as a team we contribute to making a difference for people when crisis strikes. In October 2019, our office clothing drive resulted in 145 kilos of clothing being donated to the Red Cross. Our donation can help:
Feed one person for two and a half years, or
Feed two people for 14 months, or
Feed a family of five for 12 weeks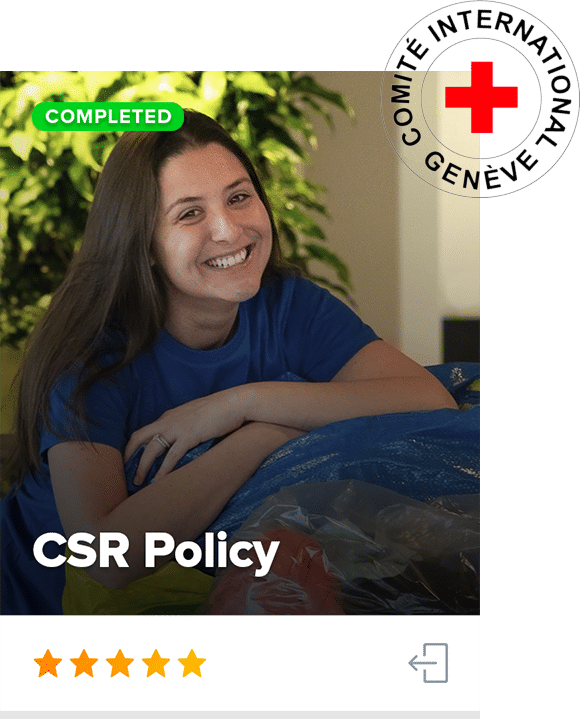 Diversity in eloomi is important for our success, as well our contribution to a better work environment, and help the surrounding community to be a multicultural company. Our ambitions are huge, as we aim for a 50% gender split and have surpassed our goal of achieving a 50% multicultural workforce. 
Environmental focus areas
Our IT infrastructure data centers are 100 % powered by renewable energy, 100 % carbon neutral, and reducing our customers' energy use by 30% to 90% compared to on premise.
Our outreach and meetings are executed online. Our travels for external meetings are at only 0.1 %.
We measure our employee carbon footprint. The recent report shows a yearly reduction equal to 21.2%.
We sort and recycle waste to reduce our environmental consumption and minimize toxic emissions. We meet or exceed all relevant environmental legislation and promote our environmental focus internally and externally.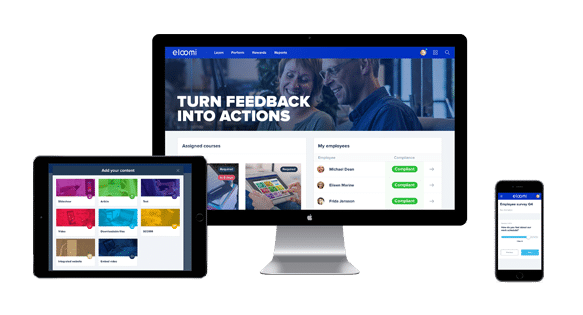 Let's begin a conversation to learn how you can quickly onboard new employees and raise engagement rates