Never lose track of your employee learning goals. Power up your L&D with a bird's eye view of the skills your employees have, need, and want. Discover budding talent, grow in-house experts faster, and sharpen that edge you need to beat competitors.
Performance appraisals at your fingertips
eloomi's performance appraisal system gives your human resources team members a superpower.
Get the insight you need to do annual appraisals really well. Sit down with confidence for the annual review, knowing that you know where individual employees are with their career development track.
Not just empty metrics, but actionable insights. Gain visibility into all the data you need in seconds—from progress, competencies, and employee engagement, to guided templates for a better performance evaluation session.
Have the ideal review process handy to help with talent management and succession planning. Present relevant development opportunities that you know employees will take up in a heartbeat and still help the company reach important business objectives. Because development planning becomes a breeze when you know where employee goals and organizational goals overlap.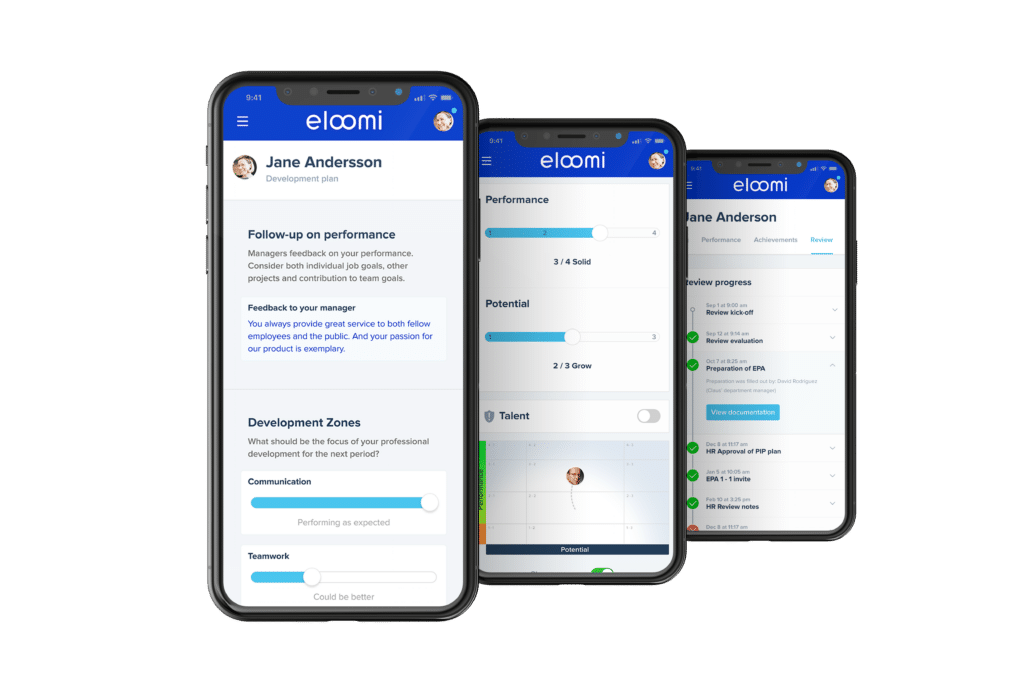 Employee performance reviews to level up your team
What can you achieve if you can improve the quality of your 1-on-1 review within a few clicks?
You can't put meaningful coaching sessions on autopilot. But you can automate everything else in your performance review process to facilitate a more productive conversation—guided templates, customized reports, and regular check-ins.
Enable your team members to go beyond annual reviews and make employee development a constant within your organization. Gain momentum by opening development dialogues between managers and employees through objectives and check-ins.
Get a real-time overview of where your employees are and where they need to be. You can do goal setting with confidence, knowing that you can expect performance improvement that will support your company goals.
eloomi is one of the best employee performance management system
With all your L&D and performance management programs in one place, you get to experience a degree of automation you've never seen before, while maintaining the productive, meaningful, and inspiring conversations employees need to grow.
Get access to:
Better insights
Guided templates
Automated processes
Flexible systems
Simplified management processes
Empower your employees to take charge of their professional development journey.
My360+ performance management software
You don't have to guess which learning paths your employees should take next. Get meaningful 360-degree feedback from the people who know best to identify the ideal learning paths for each employee.
Uncover the talents within your organization and deliver the right programs they need to grow their skillset faster.
Your employees get real-time feedback on their skillset and you get to actively contribute to the (rapid) growth of your next in-house expert.
Leading businesses love eloomi's performance management tool
A platform that would go above and beyond the standard, a solution which shares the same passion and values for technology and a platform that engages, excites and exceeds the needs of the user.
Amir Rizvi
Head of Academy, CitNOW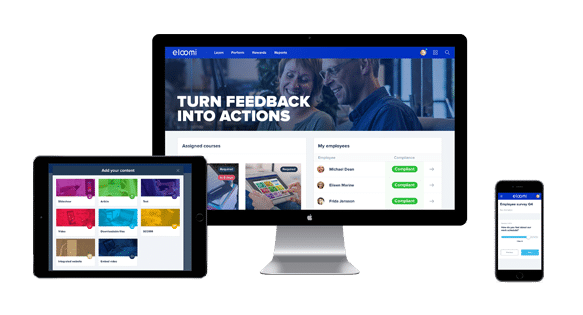 Simplify the performance management process with eloomi
Effective performance management starts with choosing the right platform. With eloomi, employers and employees alike can access the comprehensive reporting tool and keep track of learning objectives to maintain momentum.
Simplify the management tasks at hand, so you can focus on nurturing the talent and assisting your company's growth. Get used to spending all your energy on productive conversations that drive people development instead.