Your business may have been forced to pause new product launches or other events because of lockdowns and travel restrictions. But some activities can still be easily maintained using online tools to help you sustain business momentum. 
One great example of this is from one of eloomi's valued customers, Fritz Hansen. They were asking themselves the same question as many other businesses: How do you start a product launch event facing the limitations imposed by the pandemic? Fritz Hansen's solution was to go digital. Not as a consolation but to proactively innovate an online approach and thereby increase the value of their internal product introductions.
Fritz Hansen is an international exclusive furniture brand that manufactures and sells design furniture, lighting and accessories from some of the world's most renowned designers. During the pandemic, Fritz Hansen has experienced a significant increase in sales. The high activity level and the need to keep the business going amid periods with lockdown spurred Fritz Hansen to transform their internal new product launches and annual company kick-off into a virtual model.
But how do you launch a product virtually? Normally, the entire organisation would be gathered for three days in the company headquarters north of Copenhagen, Denmark, where they would introduce the new products. But this year, instead of PowerPoints and physical attendance, Fritz Hansen held their kick-off and product launches virtually through their eloomi based Fritz Hansen Academy.
It was easy for Fritz Hansen to expand their online training academy to also serve as a virtual product launch software. Events were held live and then published in Fritz Hansen's online training academy. The fact that the online product introduction and kick-off were organised in programmes with a sequence of event elements created an online experience for the employees that is both structured and flexible.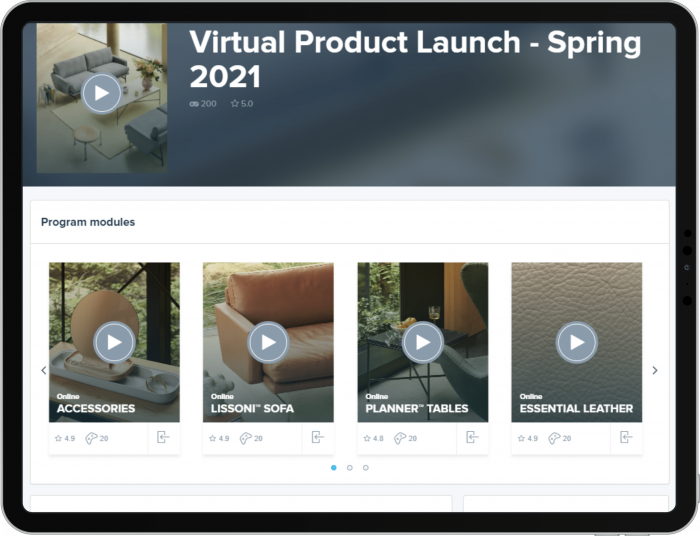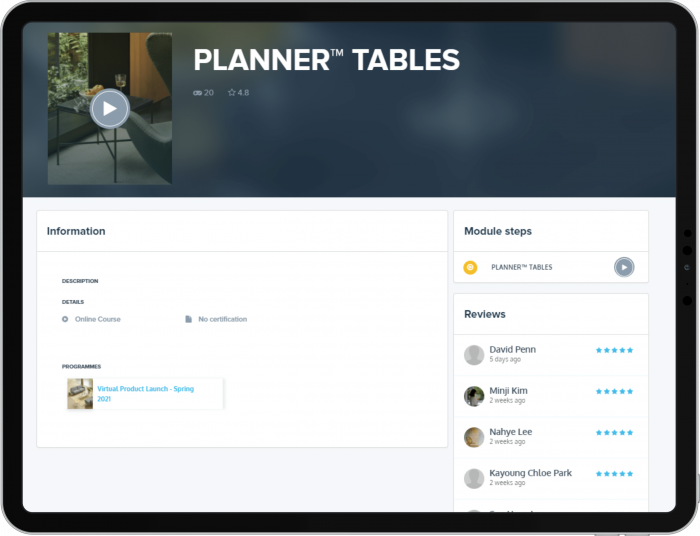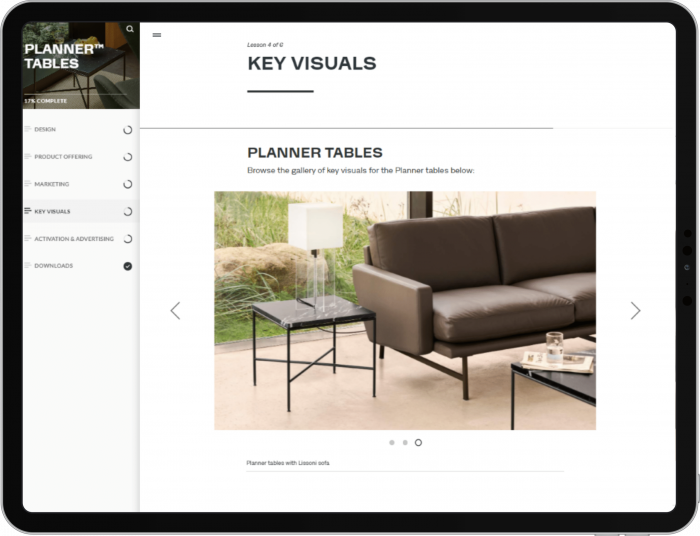 A virtual product launch designed for success
The feedback from employees, both verbal and written comments in the online modules, exceeded all expectations. The experience and flexibility for the individual made employees submit top ratings of the learning programme. The feedback and reviews show that the employees are adopting the virtual product presentations and company kick-off because they perceive both the content and format as relevant.
The virtual product launch platform has brought a personalised way to acquire new knowledge. Both new and existing employees believe this type of online product training works well for them and that they get a better experience of the products this way.
The online approach has more advantages for Fritz Hansen. As part of the insight and reporting in the Fritz Hansen Academy, completion tracking makes informed follow-up possible. Fritz Hansen can support the persons who have not yet completed a module and focus their attention on the information and learning modules. The transparency is a key reason for not going back to PowerPoints.
In this way, Fritz Hansen has created a best practice for a successful virtual product launch. It is lifting the company's knowledge and skills level and further builds a foundation for synergy and success. Virtual product introductions help Fritz Hansen to use their time and resources in a new and effective way and continue their movement toward being more digital.
The success has also triggered Fritz Hansen to see new opportunities and further innovate the business. The internal virtual product launch and company kick-off are the first step for Fritz Hansen to reach its sales channel partners with online product launches. The ability to present new products in a highly professional and visually engaging way matches Fritz Hansen's identity and forms a powerful contribution to create increased interest in their international markets. 
Read about Fritz Hansen's world-class learning academy for sales channel partners.
As you already know by now, there is no need to put your next product launch on hold. Hopefully, you have gained some virtual product launch ideas. Making it a virtual launch is easier than you think and also can innovate a critical event and keep your business growing.
Are you looking to solve your product launches during the pandemic and beyond like Fritz Hansen? Click here to book a demo with one of our Product Specialists today!
Challenge
Conduct internal product launches and company kick-off during the pandemic and lockdown.
Solution
Improved employee experience of new product presentations and socially interactive company kick-off by holding them in the online learning academy.
Value
Maintained critical business event and innovated a highly professional and visually engaging virtual product launch.