But, did you also know eloomi is recognised year after year as one of the top software companies for both our LMS and performance management solutions? 
Thanks to the great reviews from our customers, we have been awarded and recognised by many of the top review sites for categories like Product Leader, Best Value, Front Runner and Best Functionality. These awards come from the hard work of our team to support our customers who in turn, leave some pretty fantastic reviews in all different areas.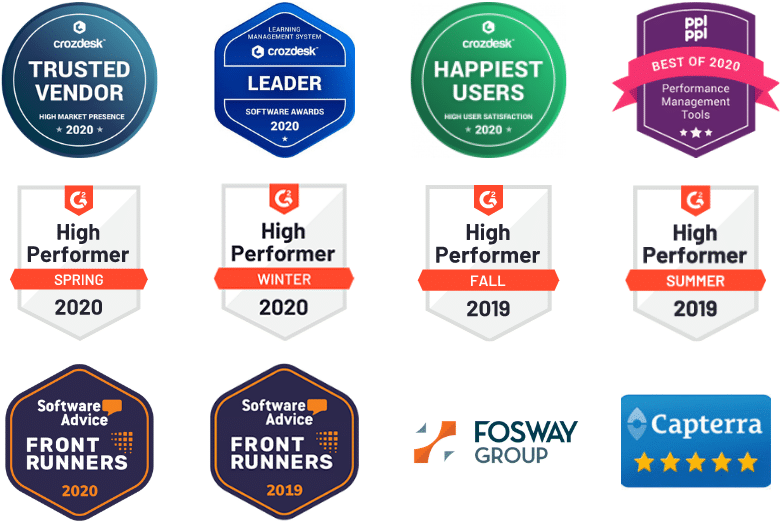 We keep it simple
At eloomi, we know how important it is from simplicity when getting started because you're eager to start developing your people. That's why we've made it so easy to get started in eloomi. Whether for learning or performance, customers have a quick turn around time from becoming a customer to launching their platform. Getting started is seamless since you can upload your users from an Excel sheet, or use one of our API's. In moments you can fill your platform with all of your users, meaning you can start creating value instantly.
Modern and intuitive design enables productivity
Because the set up is seamless, it takes little effort to begin creating essential things like building your modules, setting coaching dialogue templates or creating an appraisal. In eloomi, we have a simple drag and drop builder to help you make beautiful learning and performance processes. eloomi is a cloud-based solution which empowers your people to take their learning or performance with them wherever they might be, reducing the number of face-to-face meetings or trainings while keeping it meaningful. In today's world, digital learning & performance dialogues are ideal and make it possible for people to learn or develop at their own pace.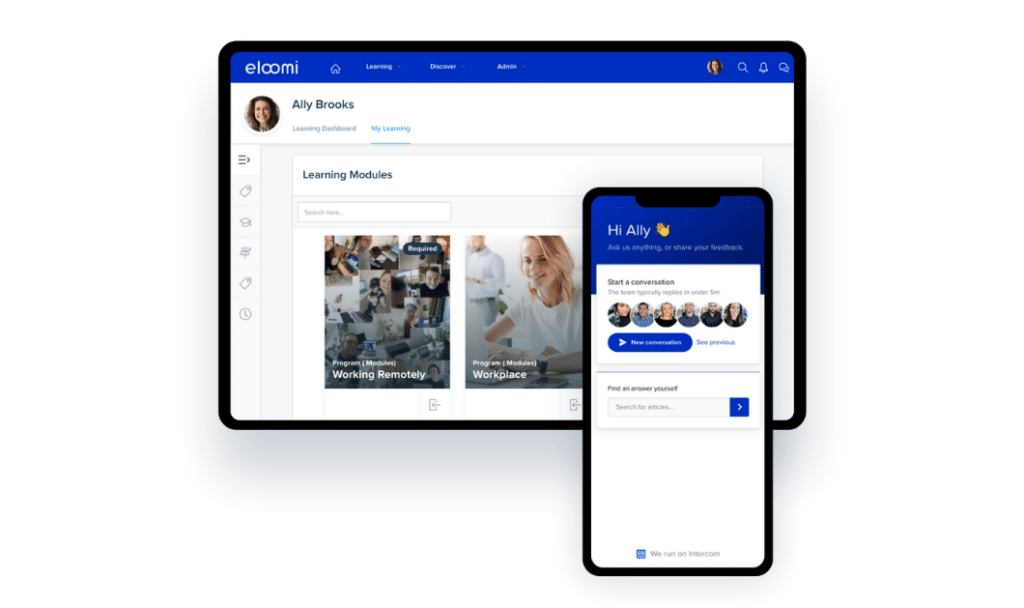 Innovating with our customers
Our positive reviews are a true reflection that eloomi isn't just about getting another software program, it's about creating a strong relationship where we can provide our customers and their people true value. We'd like to thank all of our customers for trusting eloomi to help them change people outcomes through meaningful learning and performance development. Ever since we began in 2015, we have continued to innovate together with our customers to ensure we are serving their needs with the modern HR tools they require. Our diverse and passionate team has helped make it possible for eloomi to continue to provide a powerful solution and unwavering customer support. Our mission is simple, to help companies thrive with people development so that they can provide the best possible employee experience. 
Maybe it's time for you to look into the ways you can digitalise development and learning for your people. Learn more about how our customers have benefitted from the eloomi platform here, or why not read our Capterra reviews? Otherwise, you can schedule a demo to see the platform for yourself.