Identifying purpose before adding LMS content
Working with companies in all sectors and industries has shown us that the approach is not the way to go. Taking your starting point in LMS content or being solely inspired by content that is currently in style will eventually fail your LMS. One type of content works great for some and fails to deliver for others. This is why our solution as an LMS content solution can be customized to the needs of your organisation. At eloomi, we always make sure to identify the purpose of use before starting the process of building LMS content, such as animation, micro learning, or interactive content in SCORM and Adaptive Learning.
Our best advice is to view your content as something interchangeable, i.e. content must be easy to replace, change or modify to ensure a cost effective solution. Our studies clearly state that an LMS with a low amount of content has low user engagement, and most importantly: LMS with content ill-suited for the purpose is not used at all. 
You should also think of your LMS as two separate areas. One is the software itself, and the other is the continuous need for LMS content. At eloomi we view content as an open book, in which you choose the LMS content provider or the content that you need, whenever you need it and to the purpose at hand to get the best possible result.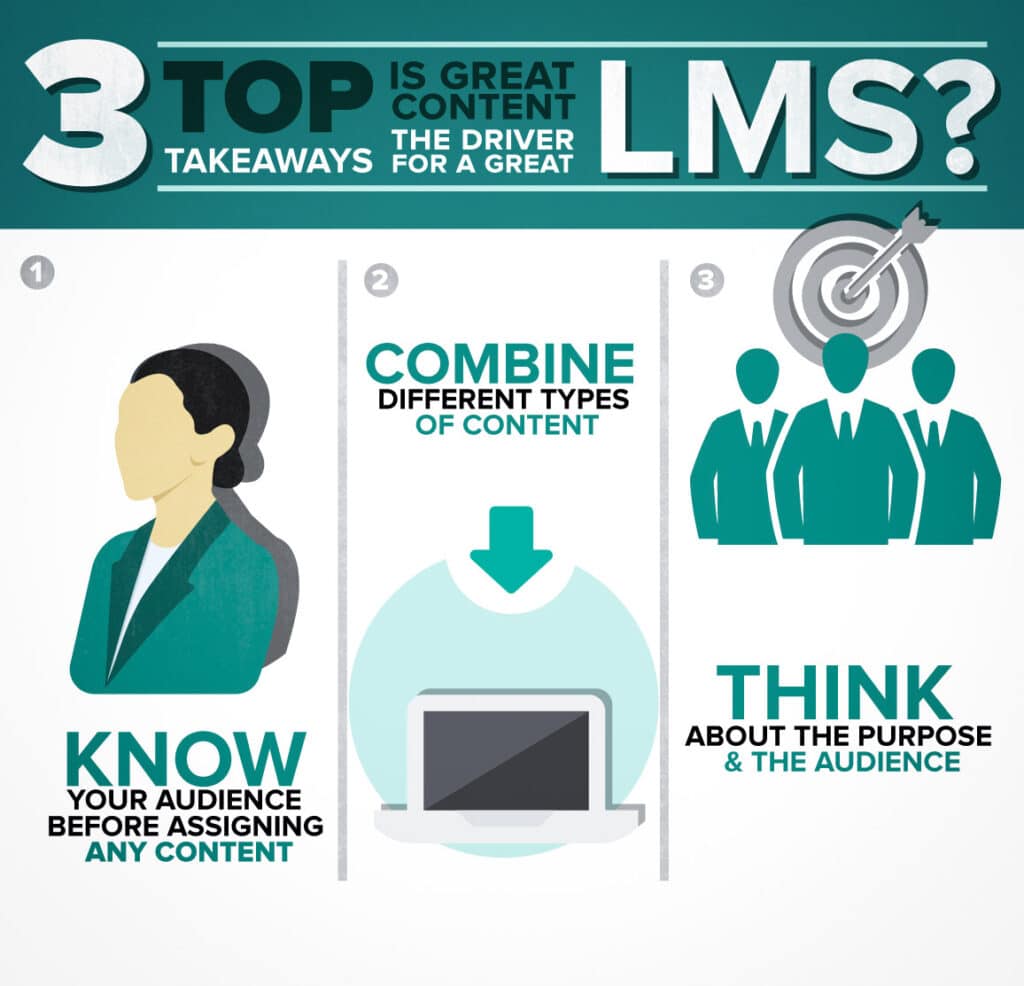 How to create great LMS content
To help you in the content building process, we have gathered a few focus areas:
Build your own LMS content easily with the LMS Course Builder when you need information, product releases or other internal guides. This makes your LMS company relevant and engaging

Create Micro Learning through pre-built animation software or partner up with eloomi to combine internal documents, movies etc. as you like

Align to the global LMS content providers and use them as you like for a variation of content. (Why build something others already made for you?)

Subscribe to niche specific content e.g. sales training modules, health-and-safety etc.

Make a few interactive or adaptive learning content modules if you want the pedagogics to be more advanced

Here's a tip on content in general: people like visuals! We remember most of what we see, and almost none of what we read, while video is king with a maximum length of 1-3 minutes. Read about Micro Learning here.
How do businesses build up LMS content that works?
We're sharing our experience with content building across different industries – which type suits you?
Finance:
Assigned pre-built generic content from an LMS content provider. Results: low engagement, and no effect.
Assigned custom-built LMS content as Micro Learning. Results: high engagement, and strong effect.
Financial employees with limited time and low motivation for training need direct and short learning that's relevant for their own personal purpose.
Manufacturing:
Assigned pre-built generic content from an LMS content provider as compliance within health-and-safety. Results: average engagement and average effect.
Assigned custom-built LMS content as Micro Learning. Results: was the same with average engagement and average effect.
In niche or general compliance, content it's cheaper and easier to get it pre-built.
Retail:
Assigned consultancy built LMS content as interactive and gamified. Results: average engagement and average effect.
Assigned own produced LMS content as Micro Learning with shorter messages. Results: strong engagement and strong effect.
The retail audience prefers co-workers to be introduced to bespoke content rather than long, pre-built modules.
Top 3 e-learning content takeaways
LMS content must be relevant to the individual. The content creator has to know its audience before assigning any content. And content needs to be evaluated for the purpose. Gamify when relevant, but not in competence-high organizations.
Avoid sticking to one style of content. Focus on a wide range of content to evaluate and choose between. Combine different types of content to make your LMS "alive" and inspiring.
Consider the resources assigned by you, and the money needed. Don't be impressed by top-dollar LMS content. Think about the purpose and the audience.
Get in touch and we'll help you take your dialogue to the next level. We love sharing insights on how to get a successful LMS with content fit for the purpose.