How to Promote Diversity and Inclusion in The Workplace
A company that embraces and promotes diversity and inclusion in the workplace grows at a different speed. But to create a diverse working environment, it's important to consider that diversity needs to be accompanied by an inclusive approach to getting the best out of it. Using a structured onboarding process and a transparent performance management system can help you decide how to promote diversity and inclusion in the workplace and simplify the process of making it happen.
Why We Need Diversity & Inclusion in the Workplace
Nowadays, every company has a countless number of people coming from all over the world. In some organisations, it's common to reach over 25+ different nationalities in their workforce. As a result, it's time for companies to improve and promote diversity and inclusion in the workplace.
I personally have so much fun and enjoy many learning opportunities in a multifaceted environment like eloomi's!
However, people who have grown up in different countries inevitably possess other habits and behaviours.
For example, being Italian, I tend to talk a lot about food and family with everyone. Asking about these aspects as first questions, like family, may be perceived as an intrusive attitude because some people prefer to keep their personal life more private.
When we address cultural diversity, we should include the respect and understanding of different cultures and backgrounds.
Avoiding a global monoculture means finding value in the various points of views and ways of working. This is a positive challenge to create a modern company culture where everyone can find a space to collaborate and share ideas.
So, it's essential to understand the principles of diversity and inclusion in the workplace and the different ways to promote diversity and inclusion.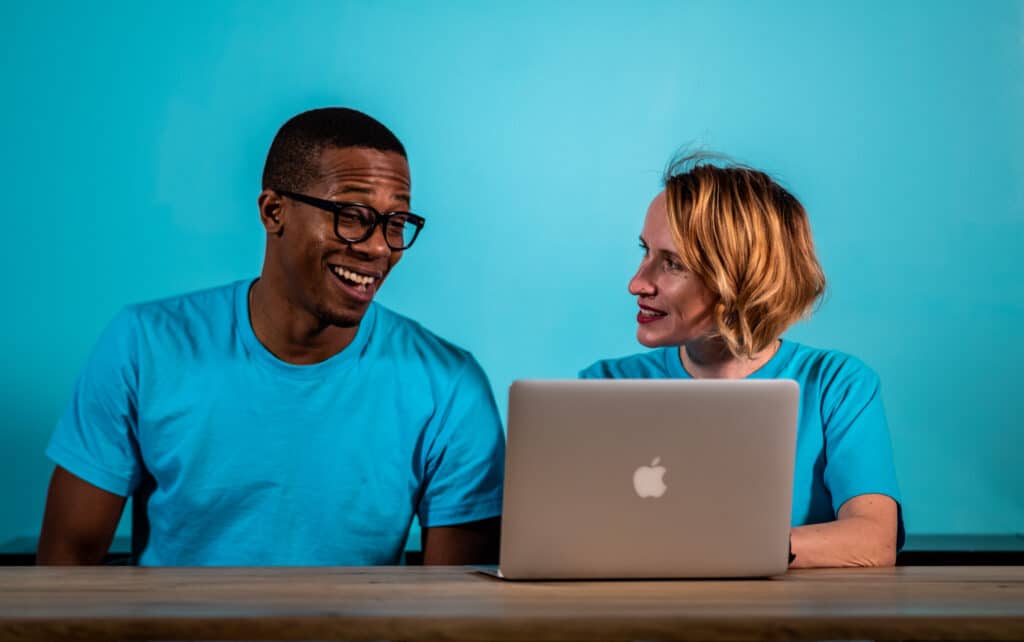 What is Diversity?
Diversity means respecting others and comprehending different ways of thinking, religious and cultural beliefs, gender orientations and much more.
Each time we experience something new, like meeting a new person, visiting a foreign country, learning a new language; we need to understand it and accept its diversity.
Once we have spent enough time in this understanding phase, we should be ready to reflect and value all the differences as well as the similarities. In this way, we can wipe off any possible uncomfortable feeling and enjoy the result of discovering something new.
Diversity in the workplace values all ethnicities, genders, disabilities, ages, and sexual orientations at the same level without labelling them.
This is the unbiased way to evaluate people's work and talent potential.
Diversity concerns also various kinds of education, skill sets, backgrounds, work experiences and abilities.
Companies that hire without any cultural bias will find undiscovered talents more easily.
That's why promoting diversity in the workplace requires a clear strategy instead of a short slogan that could lack concrete actions.
Diversity and Inclusion, Two Faces of the Same Coin
When organisations want to promote diversity in their workplace, they should focus on a plan for employee inclusion in order to implement diversity measures successfully.
Let me say this straight; if we don't see these two terms, diversity and inclusion, put together, we should be concerned about the effectiveness of creating a diverse environment.
Inclusion is the support that generates real diversity and makes it work.
A workplace that knows how to promote inclusion and inclusive practices will naturally remove discrimination and other barriers to have genuine collaboration. Also, when new hires join a company that prioritizes inclusivity, they can receive proper support to start off on the right foot.
From an employee's perspective, nothing is worse than starting a new job and feeling like an external element of the picture, someone who may not fit in the team. What do you think?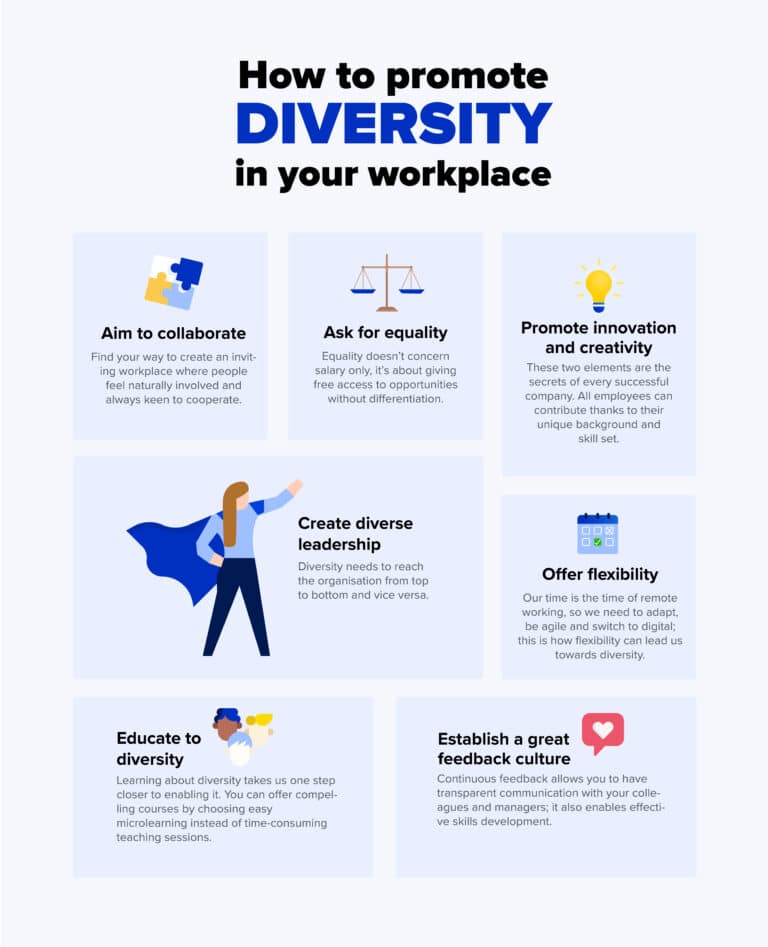 Start Promoting Diversity & Inclusion Soon
The benefits of a diverse work environment are countless, so you shouldn't wait to promote diversity and inclusion at your company. Don't add this as a future goal for the next recruitment cycle; you can start now by encouraging inclusive practices with your existing team.
No matter the number of nationalities that your employees represent, diversity is a concept that should always be implemented. You can, for example, raise awareness about different backgrounds and improve communication amongst people of the same culture too.
If you want to achieve ambitious goals and lead your business, you must establish or reinforce diversity as your company's mission.
Being competitive in the job market has a lot to do with creating an inclusive workplace that will attract open-minded, creative top talents.
Perfect! Now you need a strategy to move your company towards diversity and inclusion benefits.
How to Promote Diversity & Inclusion in the Workplace
You can add these key points to apply or improve diversity in your workplace. Some of these methods aren't new concepts of our work life, but they certainly must be seen from a different perspective. Remember, the most important thing is having diversity and inclusion interconnected.
Ways to Promote Diversity & Inclusion
Let's see different ways to promote diversity in the workplace:
Ask for equality – Are we stating the obvious? You can't imagine how many employees around the world would put this on the attention of their company's agenda. Equality doesn't concern salary only; it's about giving free access to opportunities without differentiation.

Aim to collaborate – Find your way to create an inviting workplace where people feel naturally involved and always keen to cooperate. Establish a sense of belonging through the team and ask your employees' opinions in order to be more effective.

Promote innovation and creativity – These two elements are the secrets of every successful company. Creativity can be part of your performance appraisal goals.

Offer flexibility – Our time is the time of remote working, digitalisation and quick communication, these are aspects that will lead us towards diversity. Learn more about eloomi working from home and adaptability.

Establish a great feedback culture – At eloomi, we promote a feedback culture with a unique approach. If you want to have a solution-oriented team in your company, check here.

Create diverse leadership – Diversity needs to reach the organisation from top to bottom and vice versa. Give an example while hiring top managers and the company board's representatives. In addition to this, you'll have empathetic managers and leaders in return and not only within the HR departments. When a company can count on the power of empathy among a diverse leadership, it's the best of both worlds.

Educate on diversity – Learning diversity takes us one step closer to enabling it. You can propose new concepts and courses by choosing easy microlearning instead of time-consuming teaching sessions.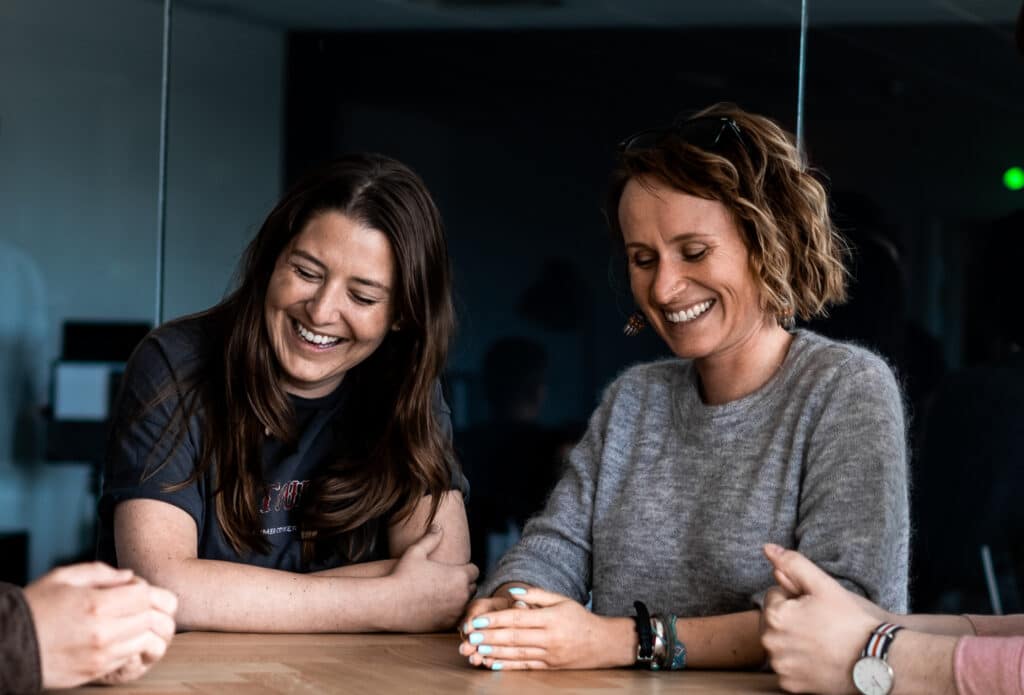 How to Promote Diversity from the First Day of Work
At this point, I want to be fully honest and add something about diversity and tokenism.
Tokenism means a lack of real inclusion, it's like an empty action that aims only to show off. If you want to define your workplace as inclusive, you should empower and involve your employees from the beginning of their roles.
But, how can employers promote diversity and inclusion for new hires?
A great onboarding process sounds like the best solution.
Inclusion can be the elephant in the room when talking about diversity in workplaces.
Imagine that you work in the HR department of a company (maybe you are!) and you have some numbers or quotas to achieve the diversity goal.
You may risk hiring without real inclusion, and this can lead to frustration.
So, hiring diverse sets of employees will apparently satisfy the overall diversity mission. But we both know that diversity won't last for long if it only applies to the recruitment process.
The truth is that an inclusive working culture never ends. Having diversity is not enough; representing diversity at work does not ensure it.
Being recognised as a diverse company is a daily job for all employees, and it is constant work that can only evolve to a better future. Unfortunately, bias and prejudices aren't easy to remove all at once.
An effective onboarding process can solve these initial issues and pave the way to diversity in your workplace.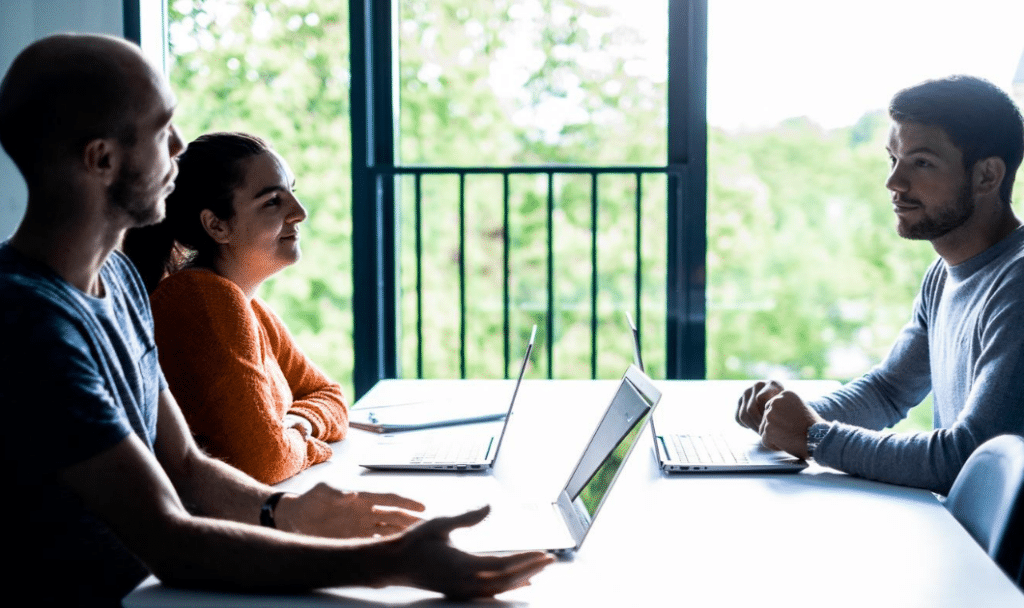 Are You Invited to the Party?
To understand inclusion, you can get inspiration from party invitations.
It's exciting until you're not on the list. Being invited means you belong to a particular club or a circle of friends.
On the contrary, not having received an invitation signifies you're not part of that group of people. It's not rocket science; we can agree on that.
A workplace can have, unfortunately, similar dynamics in terms of inclusion. Are your colleagues engaged and valued enough in a project? Do they feel comfortable while sharing their opinions? Did you contribute to creating a sense of belonging and trust among your peers?
All these questions refer to inclusion and can open a very constructive dialogue within your organisation.
The ability to be inclusive is something that your employees can learn and share afterwards. It's undoubtedly one of those soft skills that make the difference and simplify team working processes.
Let me say this loud and clear, your company can only benefit from developing an inclusive culture.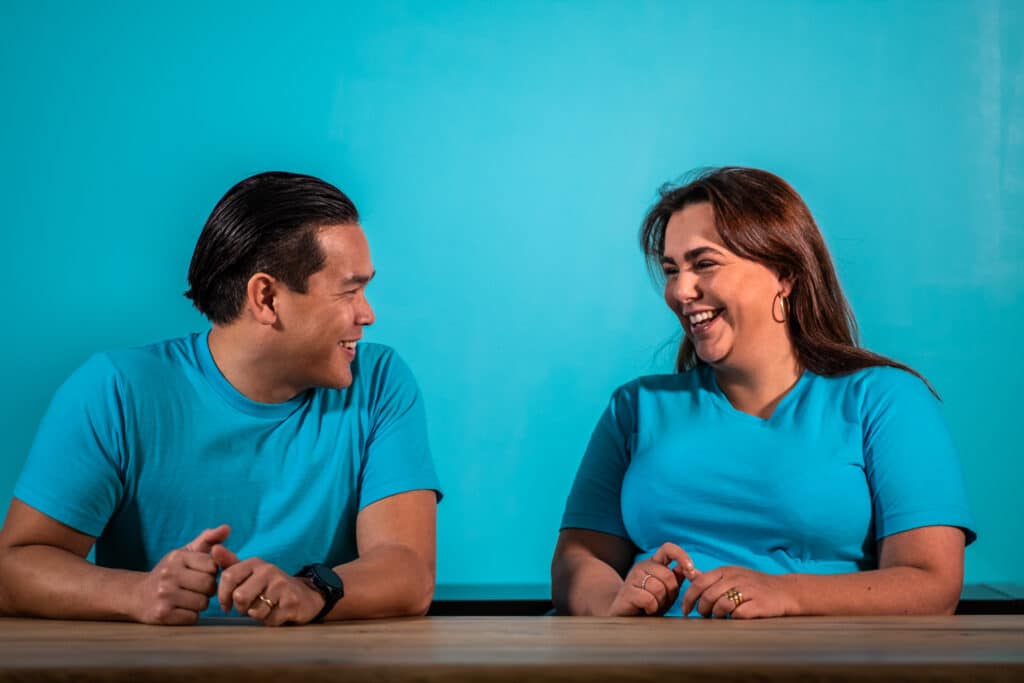 Benefits of Promoting Diversity & Inclusion
Now that we have clarified what inclusion is in a workplace, it's time to get to the best combination for success.
Remember that inclusion and diversity are intertwined, but these two are not interchangeable. If we put these concepts in practice, we can see a process that starts with diversity and fully develops with inclusion.
In this way, inclusion ensures that the diverse people gathered in a workspace are integrated and valued.
When you enable diversity and inclusion together, your work and your colleagues' work will change entirely and, of course, positively.
First, your company will have higher employee retention. Secondly, your team will be ready to innovate and inspire thanks to the diverse people's background and experiences.
Lastly, and maybe most importantly, you'll have a positive working environment to be proud of!
Once you start hiring with diversity on your mind, you can apply inclusive behaviour too.
Speak up! 
While promoting diversity in the workplace can be a company mission, we must support and promote diversity individually as well.

My advice is to speak up, share new inputs and be sure that your company's manifesto is put in practice and everyone follows it.

When an organisation sets a standard for diversity and inclusion, the leaders should sponsor and report it with clear outcomes.

Coming back to the learning aspect, we can agree that aligning on the same behavioural level takes time, but it's a clear business investment.

Establishing diversity and inclusion is not a one-day lesson, but it's a shared strategy to become better in many ways. A diverse team will gather various ideas and communicate in a better, transparent manner.  
How to Actively Support Diversity & Inclusion at Work
Becoming aware of social and work issues gave us the greatest gift of all; we can make changes. Every time I realise that knowledge leads me to be more useful for others and myself, I am thrilled.

In this case, when we learn how to adopt diversity and inclusion as new habits, we can be active. Although I am a fan of theories and abstract concepts, I need, at some point, to use my skills in real life.

First, you don't need to be the CEO or the HR manager to support diversity in your workplace. Secondly, you can enhance diversity following these precious tips: 
Create a safe environment and promote a great employee network. Use creativity to imagine a way to engage your peers. What about a community group outside the office?
Write down all unconscious bias that comes to your mind and find a way to share them. You can do it anonymously and open an exciting dialogue inside your team.
Share information about the company's anti-discriminatory policies, ask your colleagues' opinions. Are these policies enough? Is there something missing out?
Check different cultural references when you search for a topic or a discussion point. You can't read only one or two newspapers to get a broad view of the world, right?
Respect other people's cultural traditions, customs, and beliefs. We like to exchange Christmas cards, but what about other important dates in the calendar?
Be sure to have an inclusive strategy before onboarding your new employee. The secret is to be prepared in advance to ensure diversity in the workplace. Always.
Report goals, track, and measure employee's development. These actions will make you and your company more transparent and accountable. If you have an objective picture, you can easily your workplace's diversity and inclusion strategy.
Takeaways
Here's a little recap of this article's main points for some quick takeaways:
a) Diversity in a workplace means valuing and respecting all the different races, genders, sexual orientations, and nationalities. In other words, it needs to be inclusive.
b) Your employees can learn how to promote diversity via learning programmes and company policies that ban any discriminations. Diversity and inclusion are part of a bigger process.
c) Diversity at work should be a top-to-bottom company strategy. When hiring with an inclusive mindset, you can find unique talents for all roles.
More Diversity at Work Means Better Employee Wellbeing
When tackling diversity and inclusion, we are dealing with people and their emotions and feelings.
More work-related, we consider salaries, job roles, satisfaction, and skills development.
I forgot to mention that diversity in the workplace is also a synonym for wellbeing and productivity.
Yes, going to work and being free of biases or cultural obstacles let us be more efficient and satisfied.
I want to share another example. As an immigrant myself, I did have some fears or cultural barriers during my first period in a new workplace. For instance, I am not a native speaker, so I can be worried about others' possible judgments.
Luckily, my colleagues can easily remove all these scary ideas. Being asked about my culture and my mother tongue makes me feel appreciated and valued for who I am and finally, I can relax about my accent.
We live and learn; there is no doubt about this. I learned that challenges could be easily transformed with significant initiatives and a positive attitude. Blind spots can be lightened up and changed into something powerful and inspiring.
Are you ready to let your employees thrive and cooperate?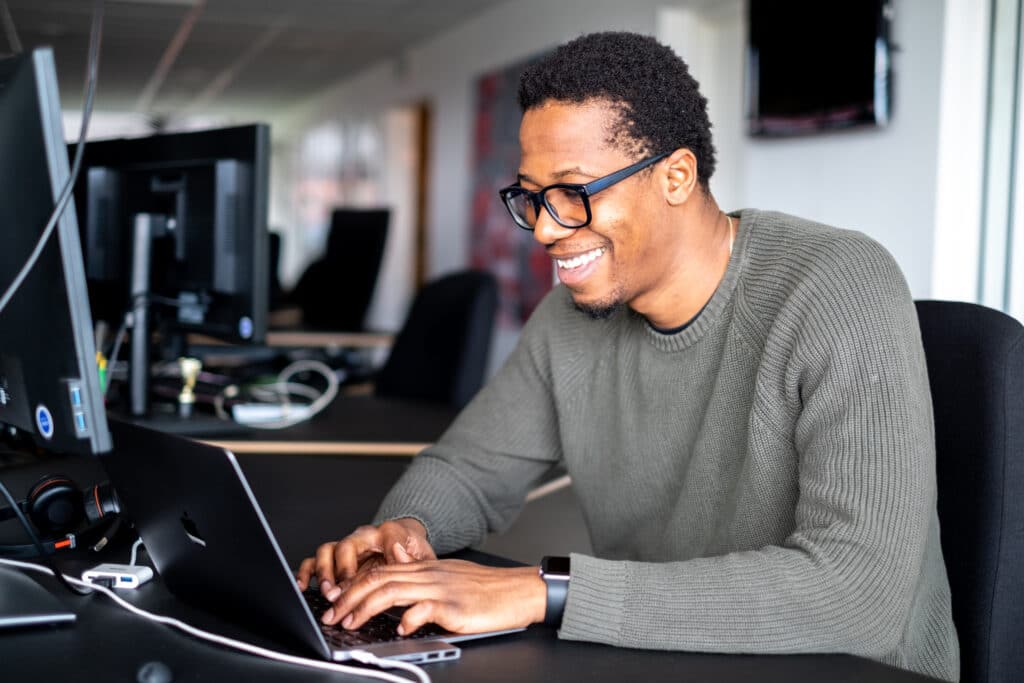 The Ultimate Guide to Employee Onboarding
Having an effective onboarding process brings multiple benefits and positive outcomes. Starting from employee engagement and retention, building a plan for…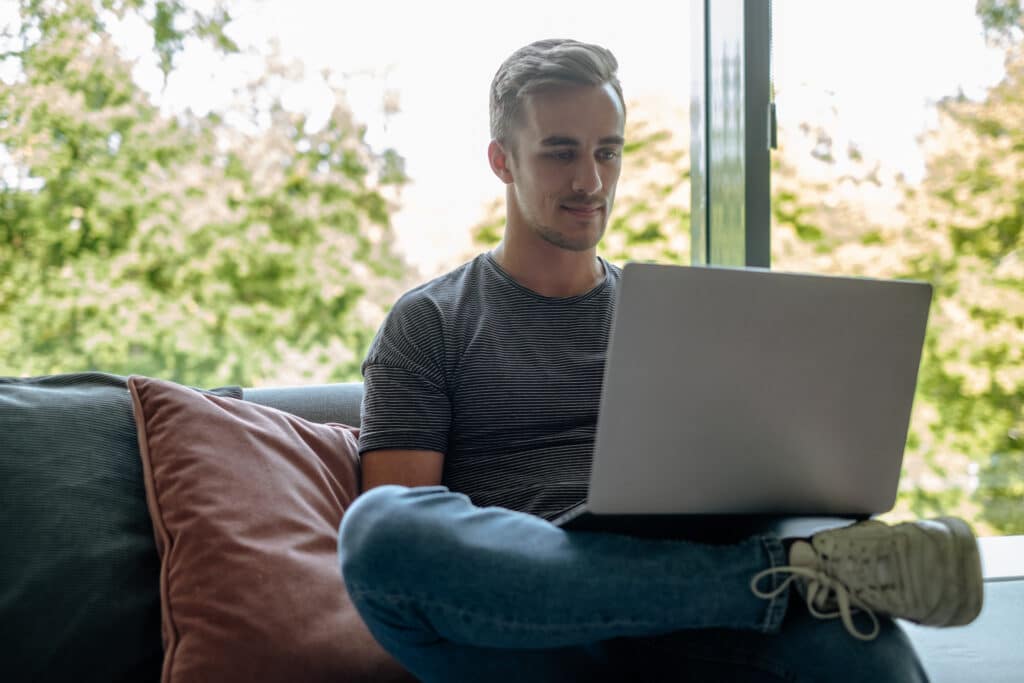 How to Make Compliance Training Effective & Human-Centric
Cybersecurity breaches, data privacy neglect, discrimination, and violation of regulations – there are lots of incidents that can happen due to employee…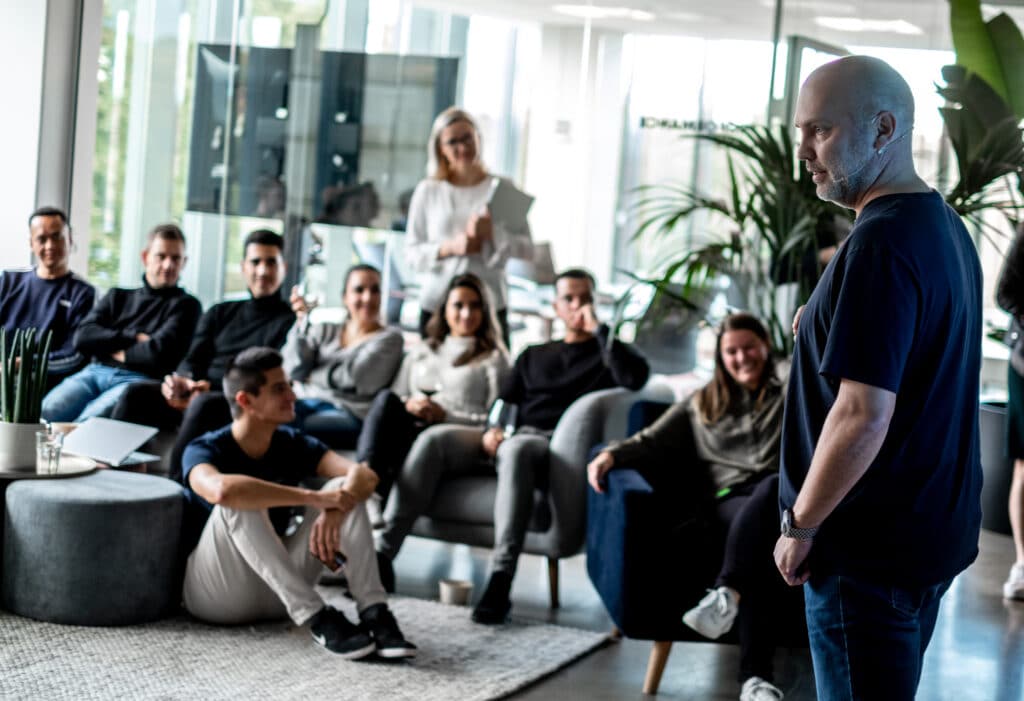 Shaping the Future of Employee Development with an Exceptional LMS
By adopting an accessible and intuitive LMS, organizations can save a significant amount of time and reduce costs. But most importantly, they can start to…
Trusted by hundreds of companies worldwide