Resilience is commonly defined as the ability to bounce back, having faced a challenging and/or stressful circumstance. Bouncing back from adverse circumstances varies from person to person. It is determined for some by their ability to adapt to change, maintain healthy self-awareness, avoid adopting a victim mentality, open communication, strong connections and a sense of community both in and outside the workplace. For others, it's the capacity to problem-solve, understand they have agency over their lives, and to ask for help when needed.  
"It's vital to remember that we are not born resilient."
Building Resilience
Many people develop a level of resilience that can carry them through many of life's circumstances. Yet Slepica notes that for others, they will need to "…develop coping strategies, including practiced traits and learned behaviours that will help [them] remain positive and deal with new challenges." 
Jens Overgaard Neilsen advocates that uncertainty is fostered by thrownness, freedom, relatedness and anxiety, and it is in understanding these that resilience can be built.  
Thrownness: Resilience can be strengthened by being able to identify your current dilemmas and how this makes you feel, growing awareness of the demands on yourself, the courage to look for new opportunities and options during your circumstances.   
Freedom: Resilience is developed through a clear understanding of how decisions are affecting you, what decisions you can make, how you can adopt and influence your priorities and approach the responsibilities that come with freedom.   
Relatedness: Resilience is built with the help of healthy relationships that allow for open dialogue, allow for supporting and helping each other, and the desire to continue to strengthen them.  
Anxiety: Resilience can be gained when you can identify when you have done enough and what has been done is good enough, when you have the courage to talk to someone about how you feel when you resolve in yourself that having doubts is okay and when you're able to break big decisions down into smaller ones.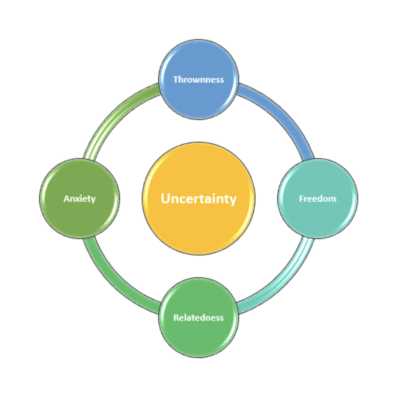 Psychologically Safe Organisation
Alongside developing or maintaining personal resilience; the workplace has to be considered. If an organisation is not psychologically safe, then there is every chance, even the most resilient can become unproductive and at worst unwell. A psychologically safe organisation is where every employee can communicate openly and try new things without the anxiety or fear of negative push back from colleagues or leadership.   
The level of psychological safety in an organisation directly impacts the capacity for learning and performance.   

Recently, the team at eloomi welcomed Anne Kongsted Krum and Jens Overgaard Nielsen from Stress-Profilen to a webinar to specifically discuss building a psychologically safe organisation. The webinar is available on-demand.
eloomi is passionate about good mental health, and that is why we have partnered with several leading eLearning content providers, including THRIVE learning, Skillshub and Mental Health Aware UK. Through these partnerships, we're able to provide a health and wellbeing library over 150 eLearning modules. Start a conversation today with our content experts to learn more about the health and wellbeing library.  
Finally, we would encourage anyone to reach out to a family member, colleague, HR or a health care professional if you are experiencing uncertainty and/or anxiety.