Online learning, what else?
Before reciting the opportunities and advantages of online learning, we should consider some key factors. In the past, all the knowledge depended on specific places like libraries or archives, instructor-led or face to face education, and expensive materials, mainly paper. We have witnessed many stages of an upcoming way of educating people during digitalization. At some point, the primary sources became the search engines, which brought several interrogatives and challenges.
When distributing training within a company, it's crucial to offer unlimited learning yet verified and relevant. In addition to this, a solid system can help prevent the loss of data and information. That's why online learning works perfectly when embedded in an easy platform that holds everything together, including the steps of each person's learning path. 
E-learning offers a different approach to improving skills and a modern mentality regarding development. It enables diversity and flexibility through its accessibility and potential.
When we think about online learning benefits, we should also remember how it promotes an inclusive, continuous learning journey that allows more social sharing and interactivity. 
Top benefits of online learning
So, what are the significant advantages and benefits of online learning? Let's see them together.
With online learning, you can: 
Save tons of time – yes, online learning saves time and optimizes training. The best of two worlds is having all your needs like onboarding, learning, and performance in one single platform. All the admin headaches will be a memory of the past. Moreover, the time spent traveling to training sessions and classes can be used to learn. This also means ending courses quicker. 
Experience a faster and long-lasting learning – You probably have noticed that learning has a peak, and that tends to flatten after an initial phase. Among the benefits of online learning, you can find a fast improvement and a steady one because of the ongoing process.
Create accurate and personalized training – Because of the endless e-learning offer, you can find the exact course for your learner. Finding the relevant content is much easier with an intuitive LMS. Discover more about eloomi Authoring.
Make learning more flexible and accessible – Among the online learning types, you can find the majority as part of asynchronous learning, so the education time corresponds to each user time. This means that the learning experience can happen anytime and anywhere, turning into an easy and more attractive activity to include in our schedule.
Connect learning with actual development  – This is one of the magical online learning benefits. The learning path matches with people's growth. With a modern LMS, relevant learning is directly available to support specific development goals and you ensure that all progress is visible and valued. Plus, all the insights can offer an excellent overview to enhance training and transform it into effective career development. 
Promote open discussion, sharing knowledge, and feedback  – While you offer unique and engaging training to your employees, you have the chance to get their opinion on training through user reviews and ratings and see what is more effective and helpful for them to develop and use at work. That means building an authentic learning culture. Among the various online learning benefits, this is one of the best to increase transparency and collaboration at work.
Reduce employee turnover  – It's common knowledge that employees leave their managers, not their job. But it's also true that they can leave their jobs when they feel stuck. This happens when their work's motivation and learning side is fading away. So, e-learning represents the ideal eternal flame to help employees realize their aspirations, grow their talent, and move forward in their careers. Something that should never be underestimated. 
Achieve full compliance – Getting everyone onboard and fully compliant at work is a big challenge for all companies. Many certificates, updates, new laws, and guidelines represent a big preoccupation for HR and leaders. An effective LMS can expand all the online learning benefits by offering notifications and easy tracking of every employee's status on compliance and mandatory training. No more missed deadlines and expired licenses!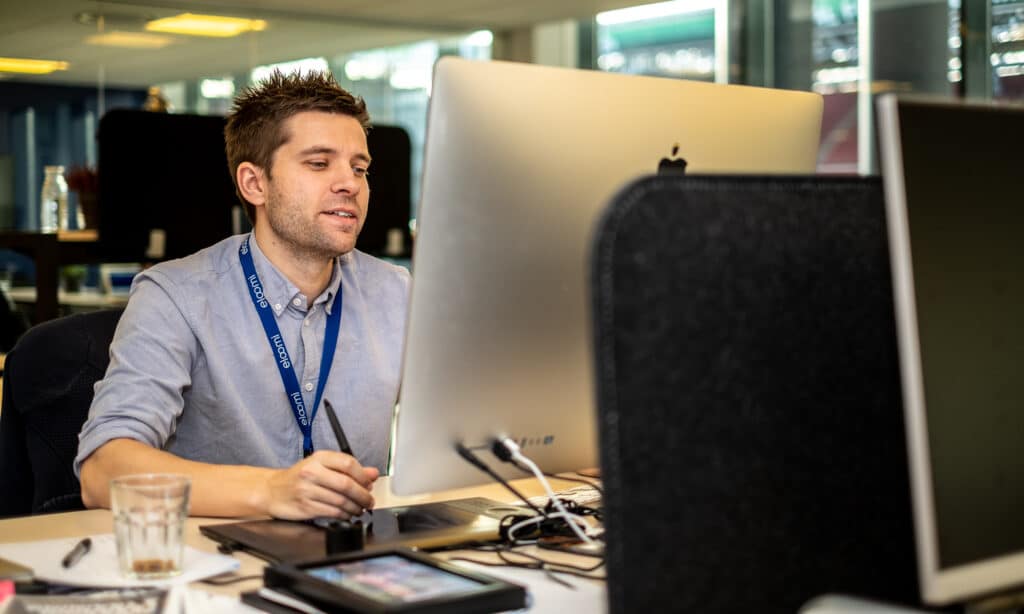 How online learning supports remote working and boosts motivation
The benefits of online learning connected with remote work deserves a separate mention. An increased number of employees is turning their work from home into a permanent condition. Consequently, companies are opening more job opportunities with a flexible or full remote option. So, no matter the need for social distancing, this is becoming our new work reality. 
While people are working remotely, it's crucial to offer them enough food for thought and equal chances to develop their abilities. Moreover, their routine needs to be 'broken' differently. Despite all the encouragement to relax and take pauses, remote employees often suffer from a non-stop workflow. By offering them engaging and highly accessible online training, companies can help them improve their skills, ameliorate their wellbeing, and maintain a hybrid work model that is sustainable. 
Let's talk about talent
When hiring new people, we have to provide them with all the possibilities to grow and develop their talent. If we don't plan this part with a structure and a timeline, we could risk experiencing a turnover in a short amount of time after their onboarding. Speaking about onboarding and preboarding, it's one of the first situations where – as a company – we can encourage a learning culture and motivate our new hires with adequate training. 
One of the key benefits of online learning lies in its potential diversity. Let me explain it. Providing your new candidates with mandatory compliance training and IT guidelines would typically be the foundation of the onboarding process. Making these courses more compelling is the only way to stand from the crowd, but no matter how you build or choose these courses, they are the expected learning modules of a new hire. Something completely different happens when companies invest by creating or acquiring advanced and empowering content for their employees. They feel engaged, valued, and ready to have new ideas and projects.
Read this before starting
One of the essential steps to implement and promote online learning within your company is to find the proper tool. Needless to say, the perfect training can't work without a system that makes it accessible to learners. It could be hard to find the right solution that presents an interface that is both user-friendly and innovative. In our daily work tasks, we can't deal with a demanding system when learning new skills and acquiring knowledge. We need this to be a straightforward process that allows us to progress smoothly and quickly. 
Velocity should be provided by the system and shouldn't create a confusing learning path. With eloomi, you won't have to deal with roadblocks. We offer you a solution designed for people, for all types of users – not IT experts!